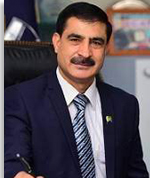 Prof. Idrees obtained his Ph. D. in Molecular Biology/Virology and then worked for his post-doctoral research at Division of Viral Hepatitis, Coordinating Centre for Infectious Diseases, Centers for Disease Control and Prevention (CDC), Atlanta USA. As recognition of tremendous contribution in the field of Molecular Biology/Virology, The Royal College of Pathologists London-UK awarded him with Fellowship of the College in 2015 on the recommendation of Exam Committee and College Council. He has also B.Ed. to his credit from University of Peshawar. Dr. Idrees currently holds a senior faculty position of Professor at CEMB, and have been associated with CEMB and CAMB, University of the Punjab for the last 20-years. During this period, he had been Professor, Associate Professor, Assistant Professor, Senior Research Officer and Research Officer. He had also the distinction to serve CAMB, University of the Punjab as a Professor and Director (on deputation) till July 27, 2016 when he assumed the charge of permanent Vice Chancellor of Hazara University on July 28, 2016 and successfully completed his tenure on July 28, 2019. Dr. Idrees current scientific and clinical interests encompass basic and applied research utilizing modern molecular based techniques. He had established a state-of-the-art Molecular Virology Division in a public sector university.
Dr. Idrees have more than 20 years of progressive experience in academics, research, administration, and financial management. His contribution to molecular biology has been recognized at home and abroad and his research work has been published in more than 200 research papers in national and international impact factor scientific journals with an overall impact factor more than 450 and of citation of more than 4,800. He is the editor of several Internal Scientific Journals. He has capabilities for mobilization of financial resources from National and International funding agencies. He has executed major research projects and has been the principal and co-principal investigator of several research projects funded by national and international funding agencies of worth of more than Rs. 2'000.00 million.
At the start of his career (May 2000), he has established PCR-based Diagnostic Lab for the detection of infectious diseases at CAMB MoST, and facilitated general public with reliable, accurate, rapid and more economical diagnostic services for widespread contagious infections and genetic diseases. He had set up a source of income for CAMB and earned revenue of more than 500 million, as a part of this rare enterprise to develop indigenous technologies. Dr. Idrees developed Molecular Diagnostic Kits for the detection of HBV, HCV, M. tuberculosis, Dengue, HCV Genotyping and most recently for SARS-CoV-2 coronavirus causing COVID-19 at 1/10th the cost of the same kits manufactured by other companies in Europe and America. Due to vital importance of viral testing, as gesture of noble consent, his team has conducted more than 40,000 PCR tests free of charges to the poor patients identified for hepatitis treatment across the country under the PM's Program for Prevention & Control of Hepatitis. The market value of these tests is more than 113.00 million.
He has documented experience of restructuring of existing organizations. In year 2015, he along with other prominent scientists developed an excellent teaching and research programmes in Applied Molecular Biology & Forensic Sciences for which, he has been internationally acclaimed as an eminent Molecular Biologist. In addition, ten modern and market oriented academic disciplines were approved and launched at Hazara University on his personal efforts and under his direct supervision. He is the recipient of several national and international awards most importantly "Best Young Scientist of the Year Award in Biology" in year 2009 by The World Academy of Sciences (TWAS) Italy and PAS Gold Medal in "Emerging Technologies" in year 2017 by Pakistan Academy of Sciences. He has also received, "Research Productivity Awards consecutively from 2011 through 2017 from Pakistan Council for Science & Technology (PCST) for his excellent performance in the field of Molecular Biology & Virology.